Rug Experts From Around the Nation Gather In Our Nation's Capital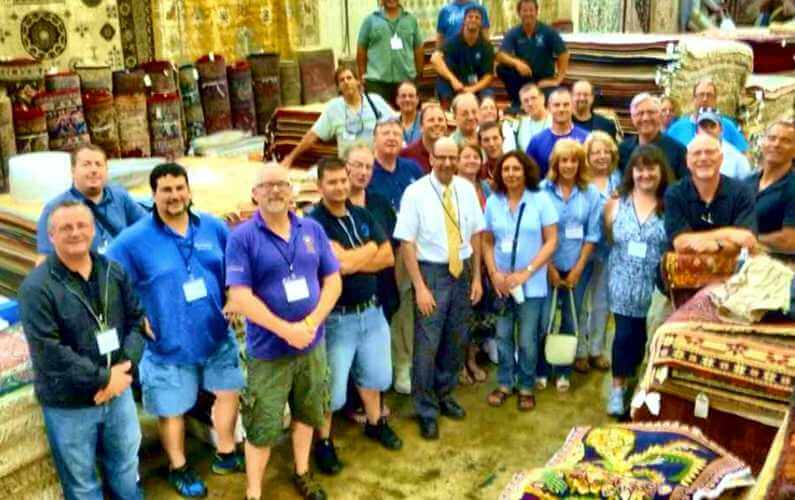 Local rug washer, David Randolph, owner of Dakota Rug Spa, joined an invitation-only group of peers at the Barry O'Connell 2013 RugLover Tour in Washington, DC.
Barry O'Connell is a noted textile authority and appraiser, and his exclusive educational event brought together top cleaning professionals, top retailers, and the best instructors in the industry.
The group was given access to thousands of rugs to inspect at the warehouse of Herat Oriental, one of the largest wholesale rug retailers on the East Coast, and they received hands-on rug washing education given by instructors from Bridgepoint, one of the industry's most respected supply and training companies, at host Glyndon Lord Baltimore's new rug washing facility. Attendees also received intensive training for their individual operations in rug pre-inspection and rug identification of hand woven rugs from around the world. They also discussed strategies focused on sales and marketing.
Hand woven and specialty rugs require a certain level of care and expertise in handling.  Few cleaners attain this level of education, and even fewer are afforded the chance to attend one of the RugLover Tours.
About Dakota Rug Spa:
Dakota Rug Spa officially opened July 1st in Rapid City, South Dakota and is owned and operated by David and Linda Randolph offering cleaning, appraisals and repairs.  David, a professional carpet cleaner for more than 30 years, specializes in Persian and Oriental wool rugs.   For more information about Dakota Rug Spa, please visit:
More News Stories For You