David Randolph of Dakota Fine Rug Cleaning in Rapid City was one of a select group of 12 Oriental rug washers from all over the United States invited to attend the 3 day Advanced Rug Washing training from the Rug Restoration Seminars event at Omaha Rug Cleaning in Omaha, NE. Participants learning the very latest in rug cleaning education.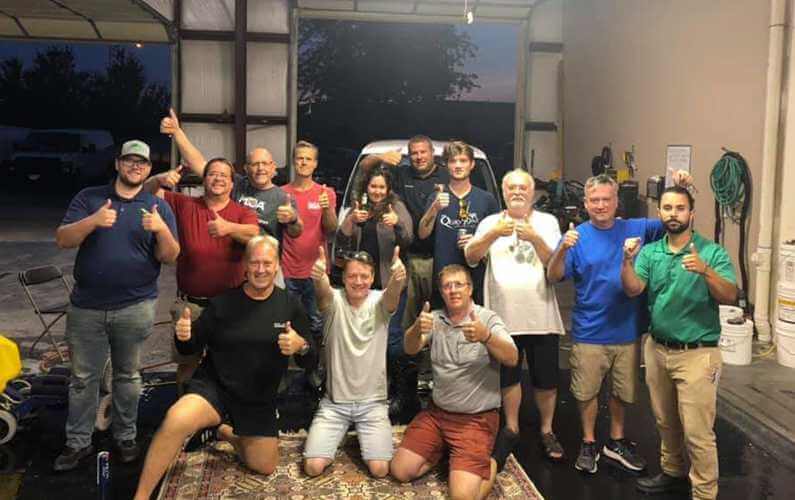 This enthusiastic group eagerly retuned in the evenings for more hands on training. Many tips were shared that would not normally be discussed among friendly competitors. Rug washers could return home with skills to guarantee urine odor removal.
Renowned rug washing and restoration specialist, Nathan Koets of Clean Oriental Rug in Grand Rapids, MI, Paul Lucas, owner and mastermind behind ChemMax, a small-batch manufacturer of custom designed rug washing solutions in Norton Shores, MI, and rug washer/distributor Cameron Mayville of Rug Washing Supplies in Omaha, NE taught and performed various cutting-edge methods of cleaning wool rugs, silk rugs and faux silk rugs, aka Viscose. Along with specialized training for Navajo rugs, tapestries, antique textiles and rugs with dyes that are not stable and are expected to bleed.
David has been using the cleaning skills that he learned at the Rug Restoration Seminars Rug Washing training event since returning to Dakota Fine Rug Cleaning with great success and customer satisfaction.
More News Stories For You